Research overview
Fundamental insights in the biological sciences have often been stimulated and catalyzed by the development of new scientific tools, as these are the crucial technologies that drive new experiments and therefore lead to new discoveries. Light microscopy has revolutionized our understanding in many areas of biology, yet light scattering severely limits its performance and biomedical usefulness inside live, three-dimensional tissues, such as the mouse. New approaches and tools are thus required to noninvasively image biological function at depth inside living tissue with sufficient resolution, speed and contrast. The focus of our group at EMBL is to push the frontiers of deep tissue microscopy in terms of imaging depths and resolution by developing advanced and innovative optical imaging techniques. We also actively engage in developing and establishing unconventional imaging approaches such as Brillouin microscopy to 'image' mechanical properties of living tissues in a non-contact fashion and with diffraction-limited resolution in 3D.
To do so we draw from diverse fields such as multi-photon microscopy, active wave-front shaping, photo-acoustics, computational imaging as well as high-resolution spectroscopy.
The ultimate goal of our research is the direct application of our newly developed methods to fundamental and previously inaccessible biological questions, with an emphasis on the mouse model. Our multidisciplinary team comprises of physicists, engineers, computer scientists and biologists, and we engage in close collaboration with fellow groups within and outside of EMBL in the fields of cell and developmental biology as well as neuroscience.
---
Research projects
High-speed bio-imaging
One of our past and current foci is the development of novel optical techniques for high-speed imaging. Together with our collaborators, we apply our methods to study neuronal activity and cellular dynamics in a range of model organisms. Amongst others, we have put forward a two-photon microscopy technique based on light-sculpting (Fig. 1) that has enabled the first whole-brain calcium imaging in C. elegans (Fig. 2). (Schrodel et al., 2013)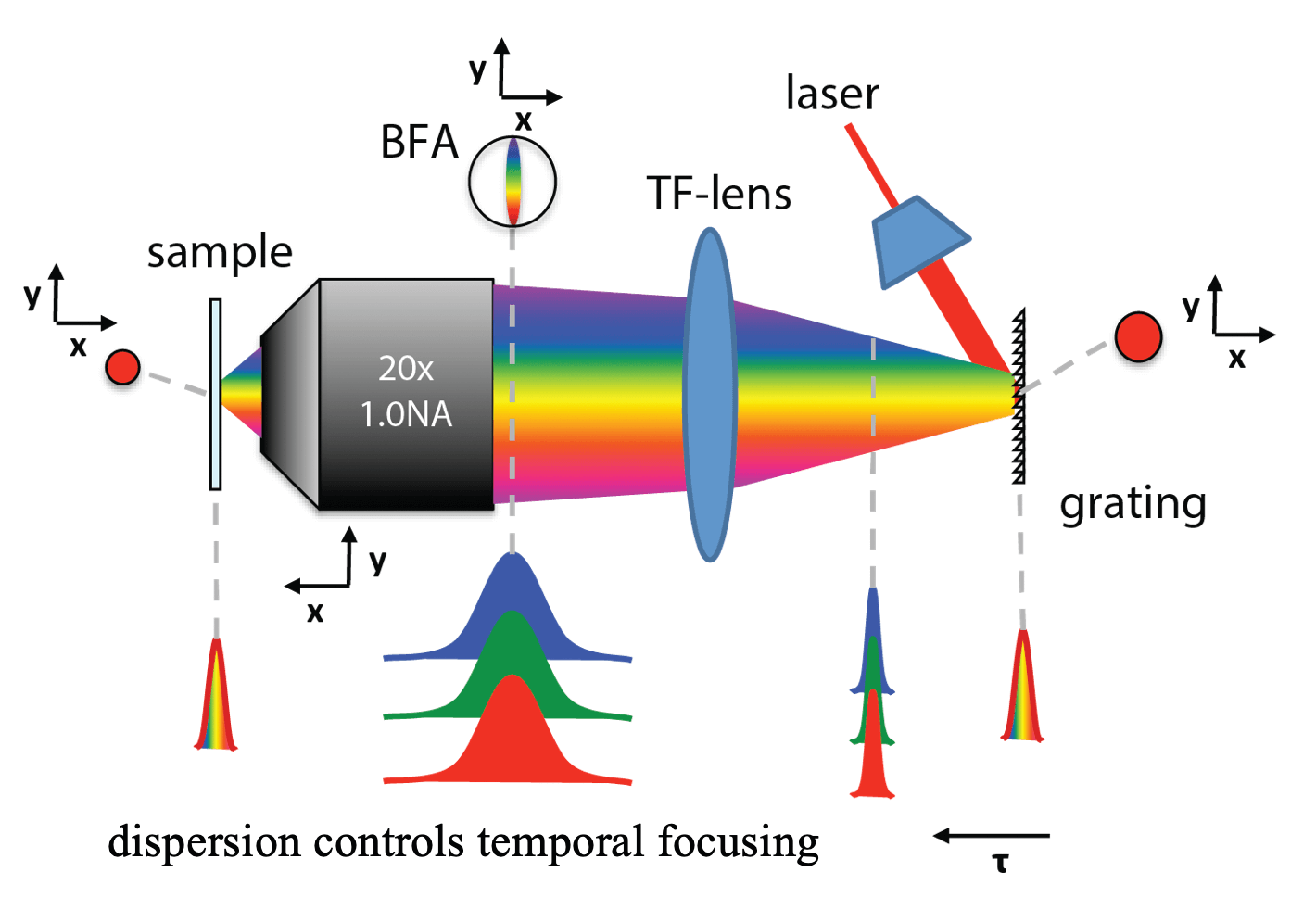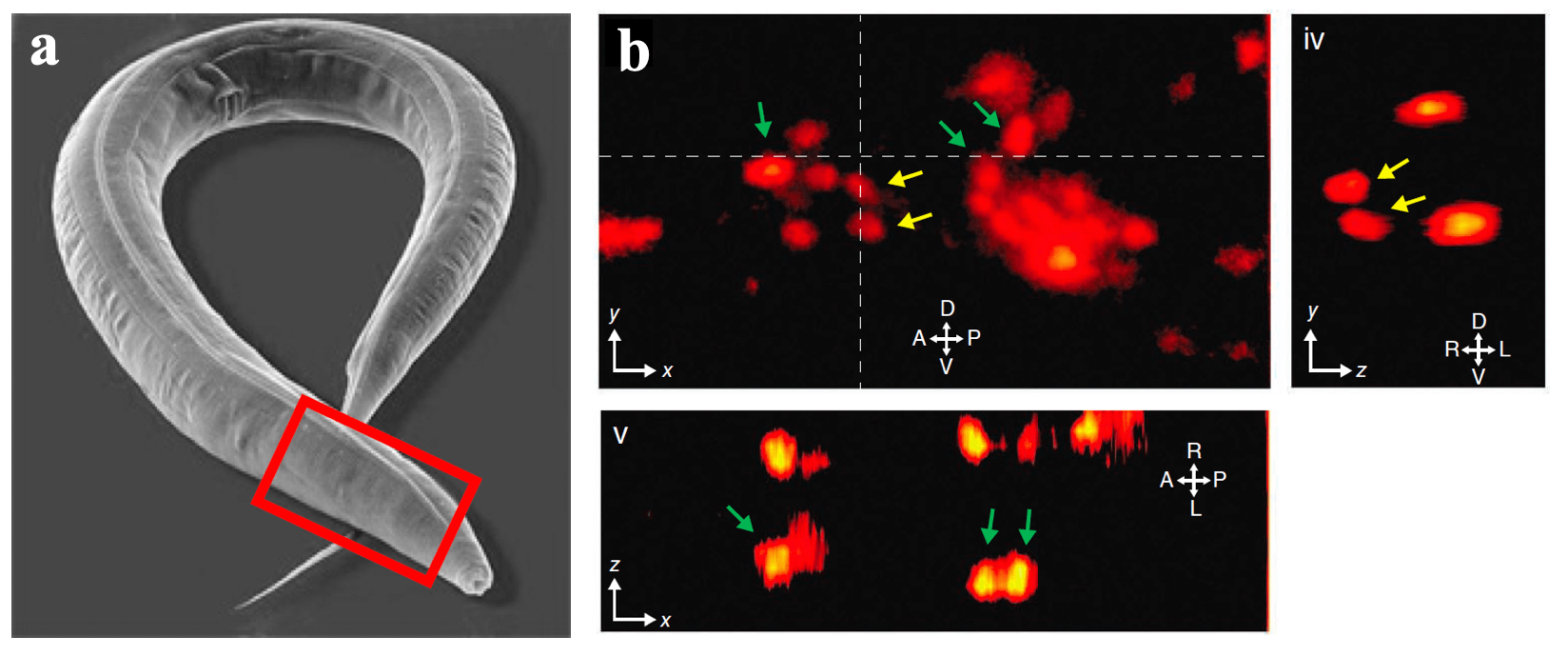 Recently, we extended our light-sculpting imaging methods to the scattering tissue domain and demonstrated fast volumetric calcium imaging across the majority of a cortical column in the mouse (Fig. 3). (Prevedel et al., 2016)
In other work, we have established light-field deconvolution microscopy, an elegant approach to perform volumetric imaging that achieves unprecedented acquisition speeds while requiring no mechanical scanning. This can be applied to image neuronal activity across entire, small organisms or small animal brains such as zebrafish larvae (Fig. 4). (Prevedel et al., 2014)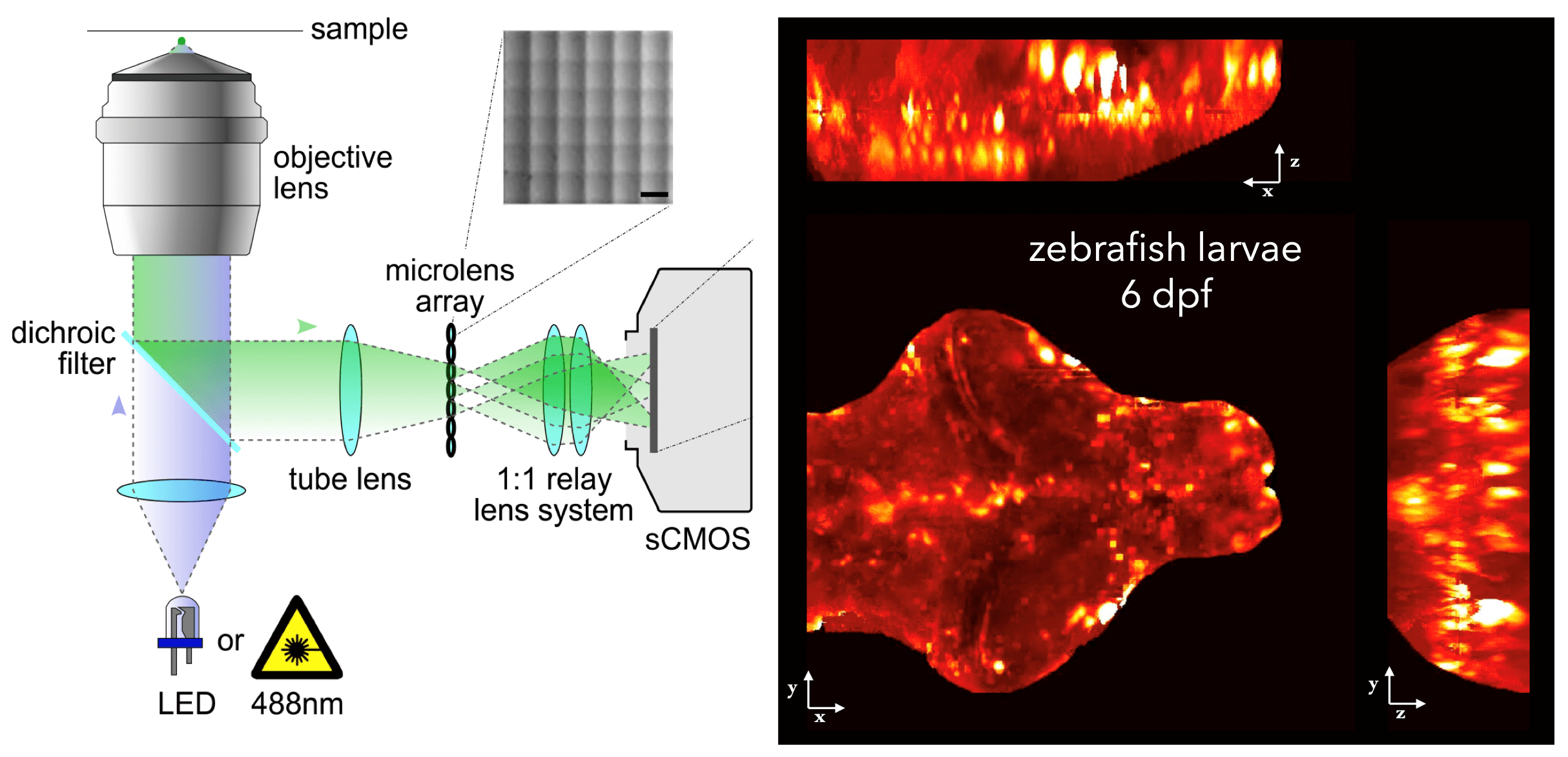 To further push the capabilities of light-field imaging, we have combined selective volume illumination with orthogonal light-field detection to obtain higher and more isotropic resolution, while significantly reducing reconstruction artefacts. With this we were able to image the beating heart of Medaka fish as well as its blood flow dynamics at up to 200Hz volume rate (Fig. 5). (Wagner et al., 2019)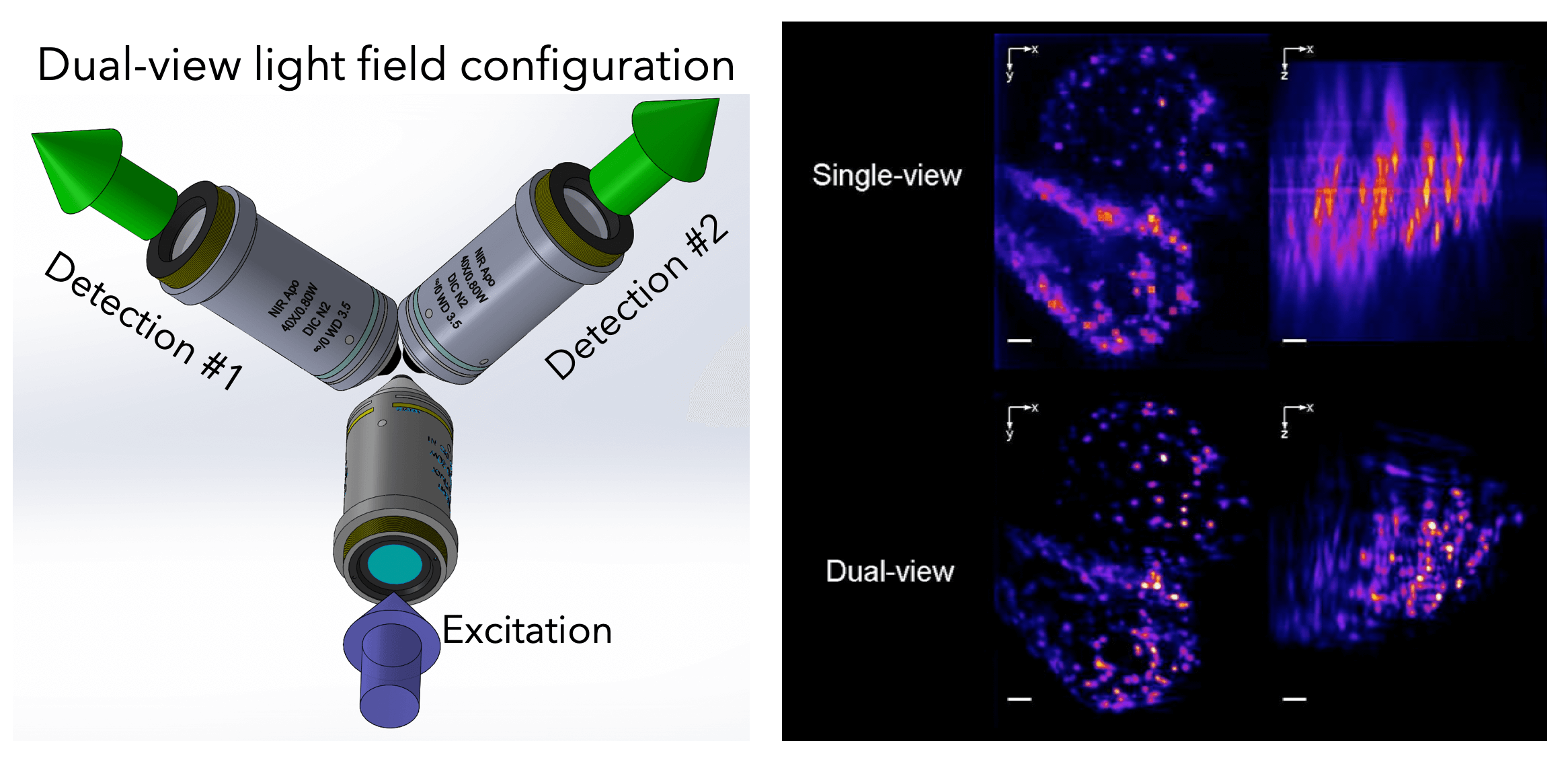 Brillouin microscopy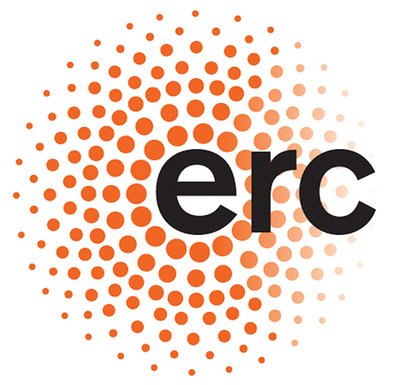 Project funded with an ERC Consolidator grant.
Brillouin microscopy is a novel microscopy technique that measures mechanical properties such as elasticity and viscosity of biological samples in a 3D, nondestructive, and fully optical fashion.
Mechanical properties have been shown to play an important role in several biological processes, including control of malignancy in tumors, stem cells differentiation, as well as in morphogenesis of cells and tissues. Standard techniques in the field of mechanobiology, however, typically rely on external perturbations making them invasive, while other approaches often suffer from poor resolution. Instead Brillouin microscopy exploits a light-matter interaction, called Brillouin scattering, to probe mechanical properties in the GHz regime. Due to its all-optical nature, it can achieve, high, diffraction-limited resolution in 3D. (Bevilacqua et al., 2019)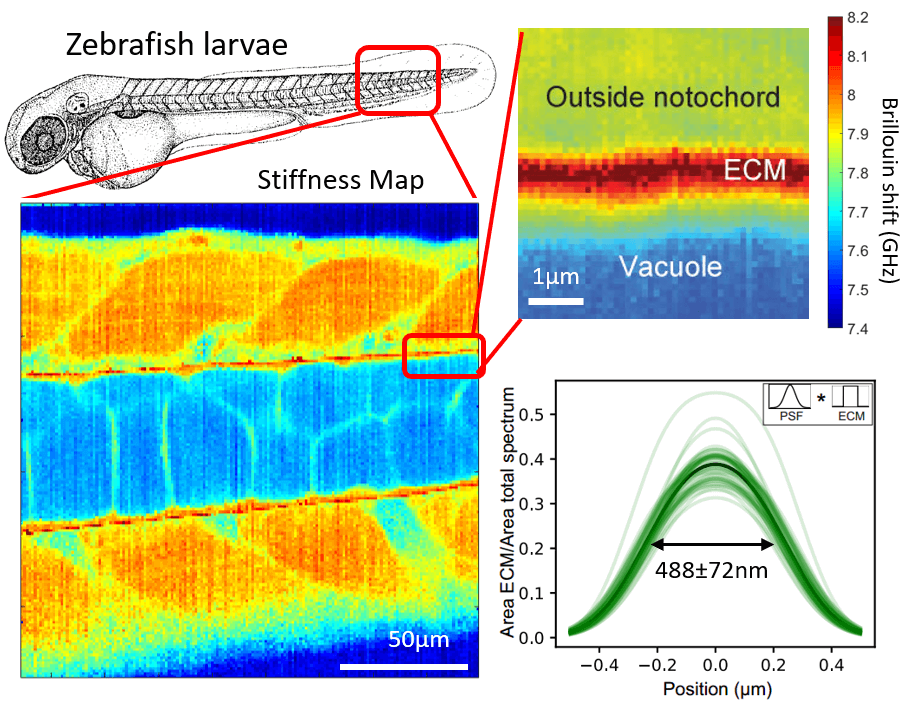 The physical principle is outlined in Figure 1. Laser light is focused on the sample and interacts with sound waves, intrinsically present in any material because of thermal agitation. During the scattering process, the light experiences a positive or negative frequency shift. The amount of the shift is proportional to the speed of sound inside the material and is thus informative of visco-elastic properties. In particular, it is proportional to the longitudinal modulus, from which elastic and viscous parameters can be obtained. (Prevedel et al., 2019)
Our lab has developed a confocal Brillouin microscope capable of fluorescence co-detection for long-term imaging of biological processes. We are applying our Brillouin microscope, in collaboration with other groups, to interesting processes in development and cell biology. Recently we optimized our Brillouin microscope to image the properties of sub-micron thick layers of extracellular layers in live zebrafish (Fig.2). (Bevilacqua et al., 2019)
Aberration corrected multi-photon microscopy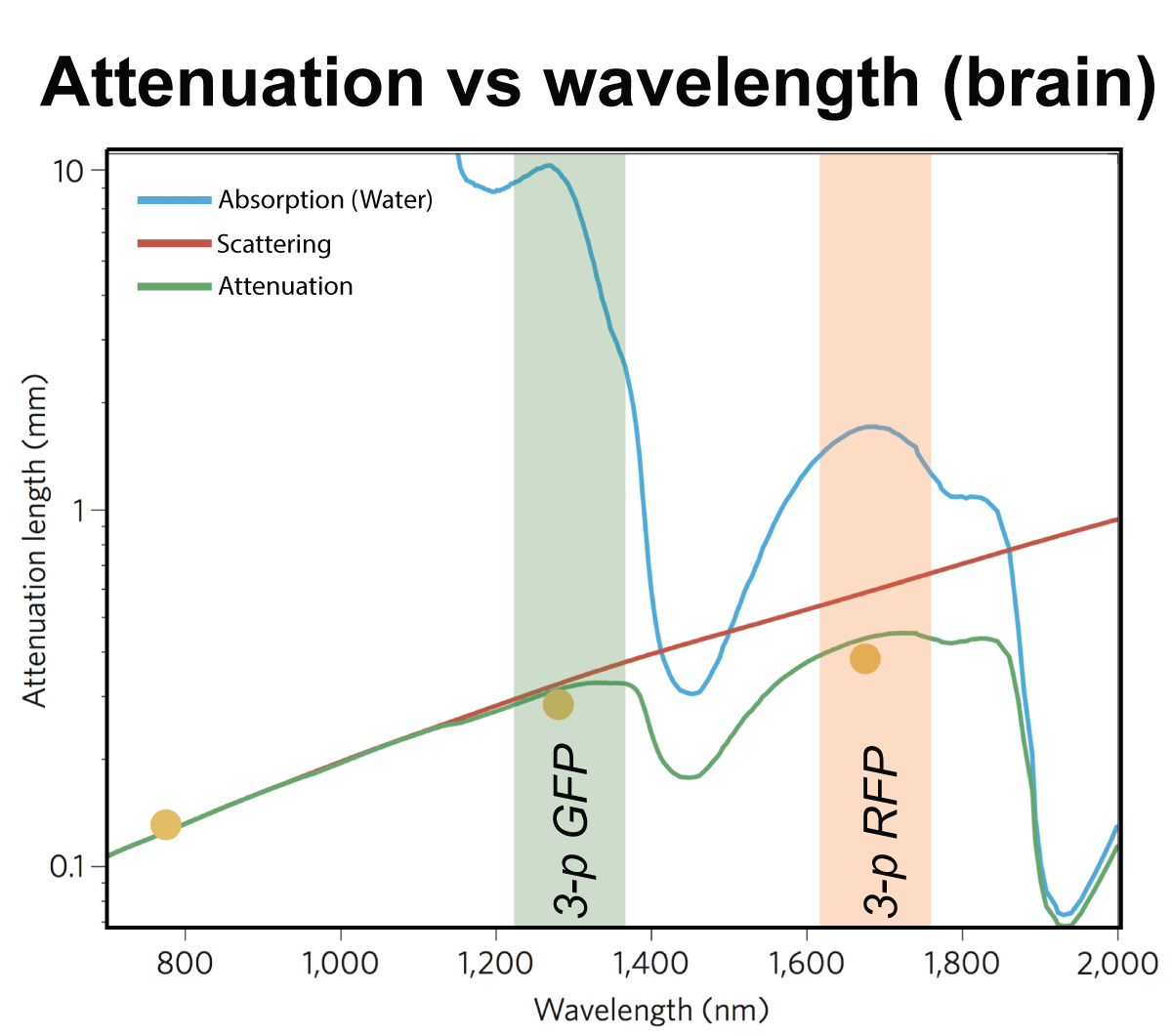 In order to study dynamic biological processes in-vivo in mammalian organisms such as the mouse, techniques are required which enable non-invasive imaging at large tissue depth with sub-cellular resolution. Multi-photon microscopy is currently the technique of choice for in-vivo imaging of opaque and highly scattering tissue samples. However, scattering and optical aberrations lead to degradation of the point spread function (PSF) and hence, reduced image contrast, resolution and excitation power at depth. To enable imaging of cellular- and subcellular structures at high spatial resolution deep inside mammalian tissue in-vivo, we combine two powerful optical techniques: multiphoton microscopy and adaptive optics.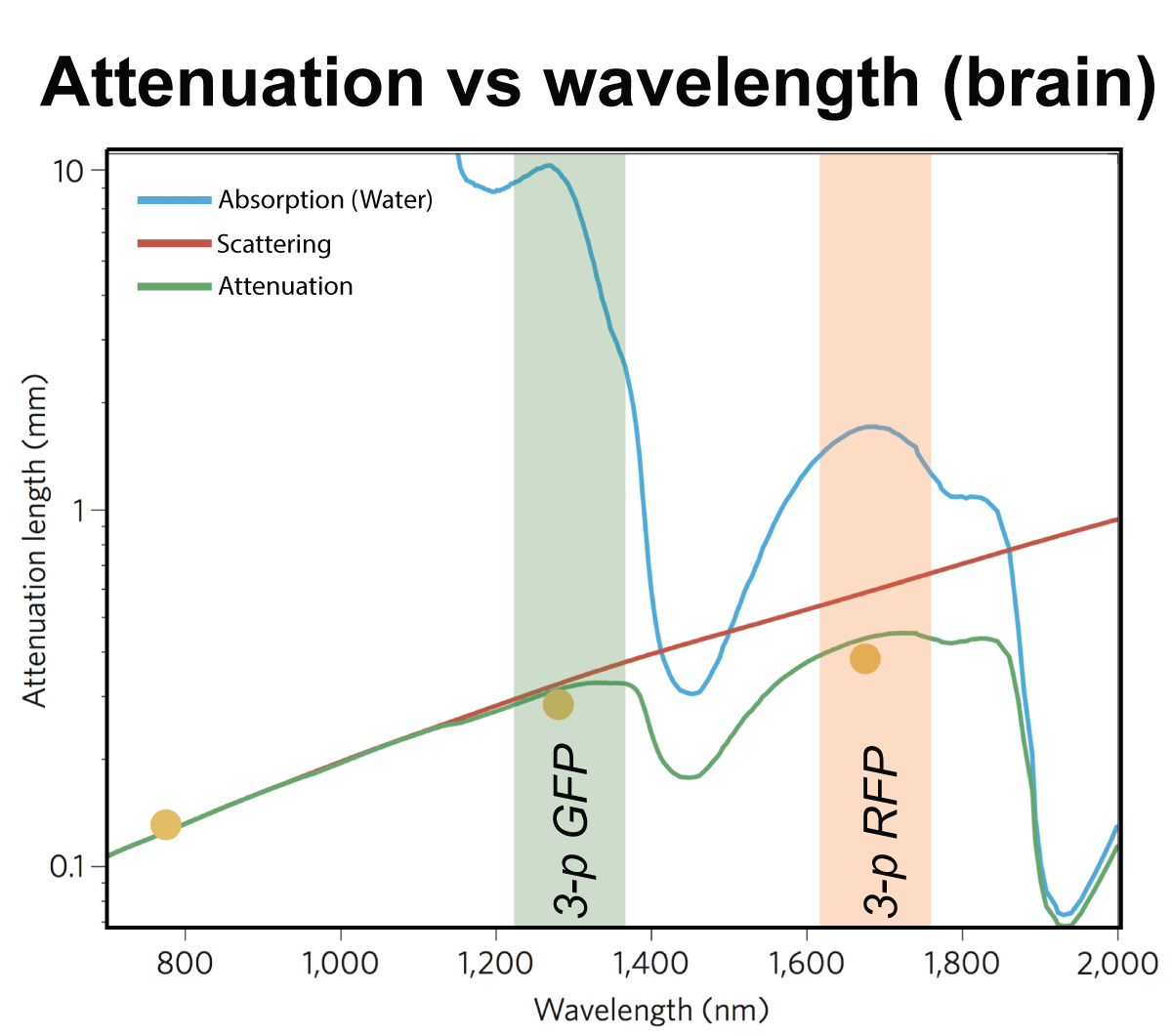 For deep tissue imaging we are exploiting the advantageous properties of three- photon excitation. The longer wavelength employed for excitation and the later on-set of out-of-focus fluorescence increases the signal-to-noise ratio at depth (Fig.2). This can be combined with red-shifted fluorophores to further reduce scattering. (Qi et al., 2018)
Adaptive optics is a technique to improve imaging performance by correcting wavefront aberrations introduced by the biological sample and the optical system. We are working on direct and indirect wavefront sensing approaches to enable diffraction limited resolution deep inside the tissue (Fig. 3).
We apply our adaptive multi-photon technique to open questions at the forefront of biology and neuroscience.
All-optical photoacoustic tomography
The strong scattering properties of many biological tissues prevent deep imaging using visible light. Although approaches exist that partly circumvent this problem, such as multi-photon microscopy or Optical Coherence Tomography, they still hit a hard depth limit at about 1-2 mm in practice. To image beyond, we need to exploit other imaging modalities not based on classical light microscopy. One of the most promising techniques is photoacoustic imaging which allows to achieve imaging depth and resolution similar to that of ultrasound tomography while retaining molecular specificity.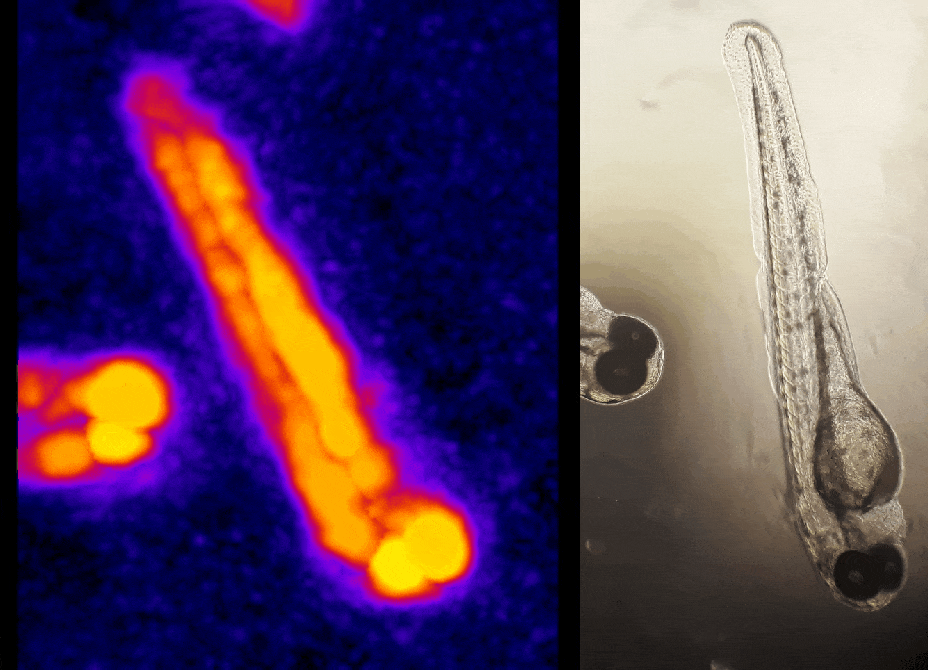 In simple terms, the photoacoustic imaging is based on generating sound with the use of light (Fig. 1A). The use of high-energy, short laser pulses tuned to the absorption spectrum of the molecules of interest causes rapid transient heating of the tissue at the sites of light absorption. Rapid heating in turn causes local expansion of the tissue and generates propagating acoustic waves which can be used for ultrasound-based imaging. We are developing approaches based on photoacoustic tomography which allows to fully harvest the deep tissue imaging capabilities (<10mm) of the technique. In this approach, instead of acquiring images pixel by pixel, we excite the entire tissue at once and record the overall generated acoustic field over time from multiple directions. We then use a computational approach based on simulating the acoustic field propagation to reconstruct the absorbing molecule distribution from the acoustic field they generate (Fig. 1B).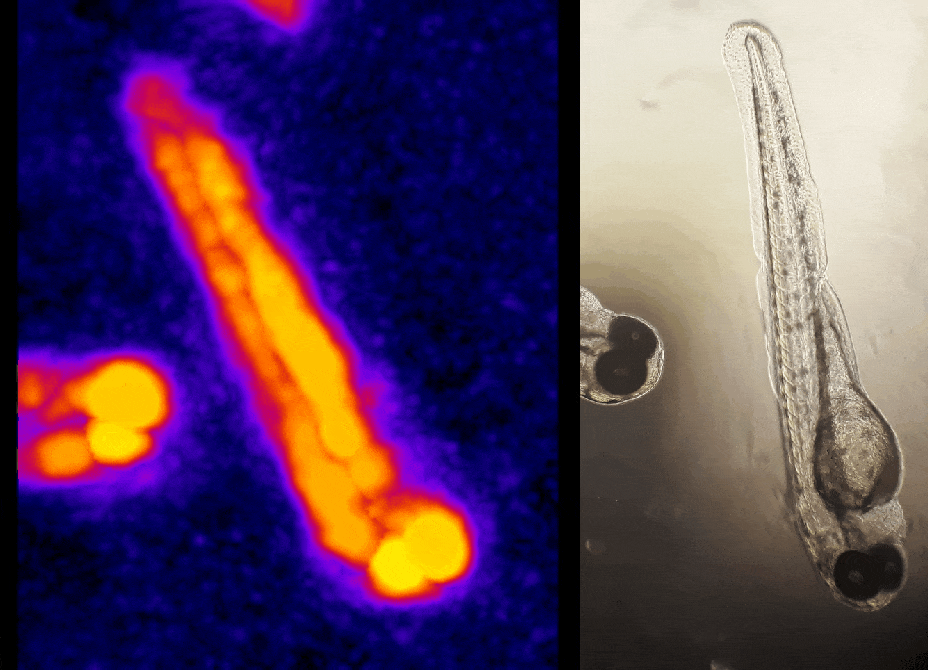 Intravital fluorescence tomography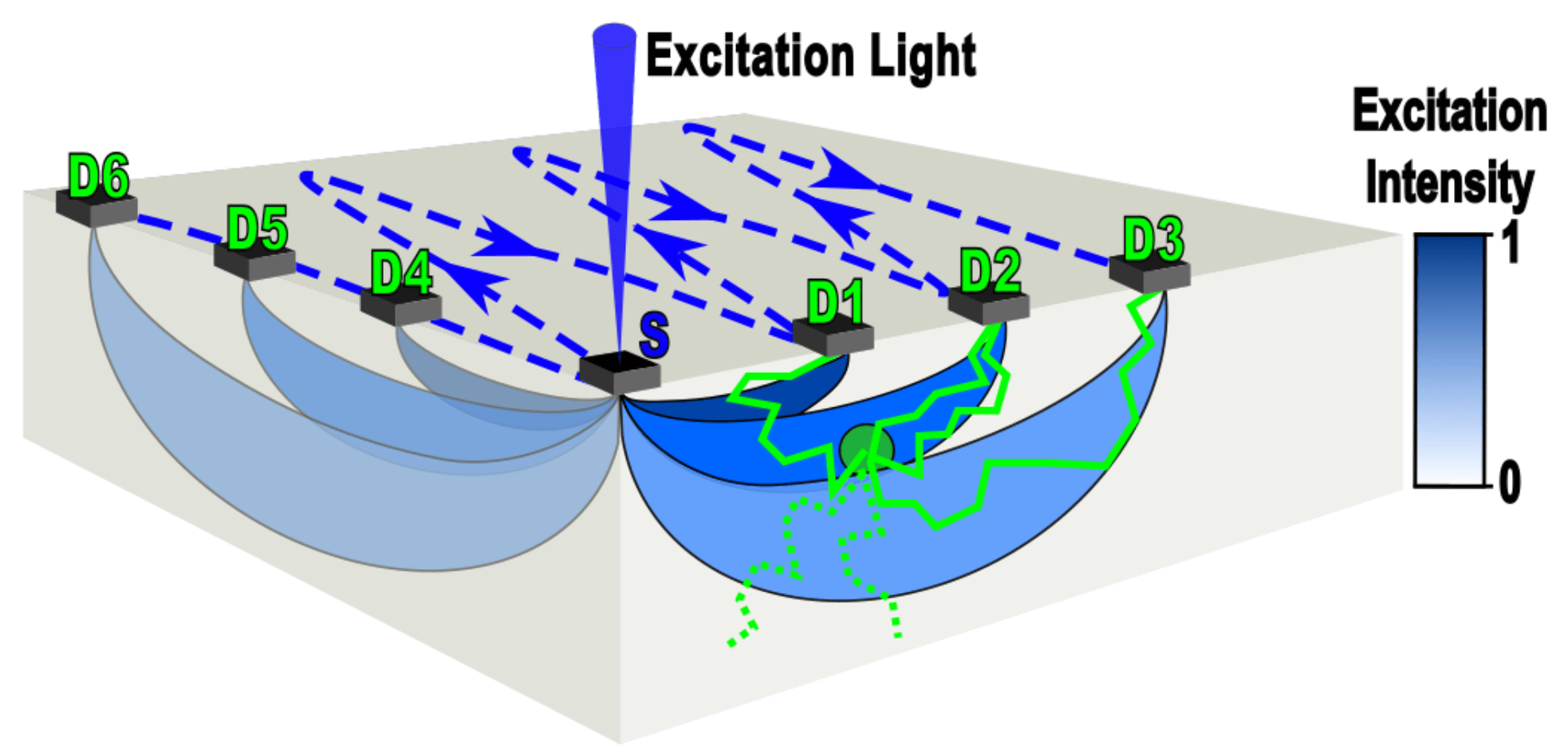 Intravital Fluorescence Tomography (IFT) is a non-invasive, thick tissue imaging technique enabling longitudinal studies. IFT relies on collecting multiply scattered fluorescent light from the surface of a turbid media with a detector array which is radially spaced away from the excitation light source (Fig.1). The different separation between the source and detectors yields depth information of the fluorescence emission inside the tissue. The collected fluorescent light from different detectors constitutes a tomographic data set for 3D volumetric reconstruction of the fluorescent target.
Tumor volume assessment is essential for staging of tumor progression and evaluation of drug treatment efficacy. However, non-invasive assessment of the volume, in-vivo, is still a challenge for traditional imaging modalities, owing to the large interrogation area and deep-seated molecular (fluorescence) signal through a highly scattering skin tissue. Intravital Fluorescence Tomography (IFT) offers a solution to capture the in-vivo tumor volume in 3D with sufficient spatiotemporal resolution with the help of Non-invasive Intravital Imaging Window (NIIW) for tissue stabilization (Fig.2).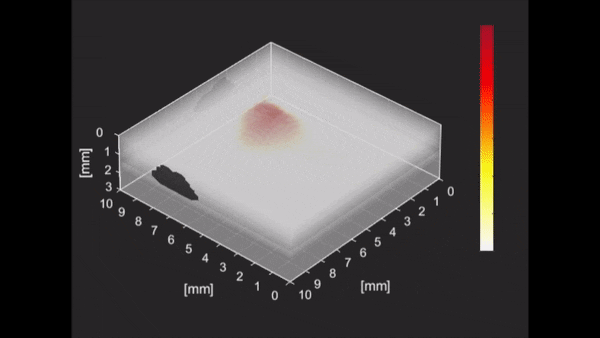 With the help of an Doxycycline inducible mammary gland tumor model, one can replicate the tumor lifecycle in mice: the tumor onset, growth, regression, and relapse. IFT provides the platform for long-term tumor monitoring without interfering with the tumor microenvironment and reveals the tumor volume progression over its entire lifecycle. This technique is useful for studying tumor biology, understanding tumor development, and investigating the drug response of a selected tumor type in-vivo in the native tissue. Furthermore, IFT alleviates the burden put on animals, usually during the imaging sessions and reduces the overall required animal number by enabling longitudinal studies. 
Overall, IFT is a powerful 3D intravital imaging tool of biological imaging, which we apply for shedding light on tumor development questions.
Intravital optical coherence imaging
The term optical coherence imaging refers to the optical coherence tomography (OCT) and its another modality optical coherence microscopy (OCM) which has a higher transverse spatial resolution. Similar to ultrasound in principle, OCT/OCM obtains cross sectional images of microstructure in biological systems with optical resolution by measuring the echo time delay of optical backscattering. In general, OCT/OCM allows 3D imaging with fast speed, high resolution and deep penetration. These features make it a powerful intravital imaging tool with applications spanning many multiple clinical specialties as well as fundamental scientific and biological research.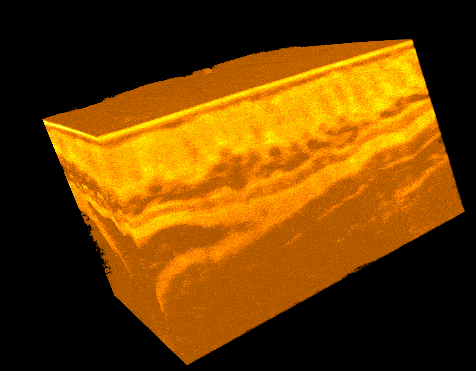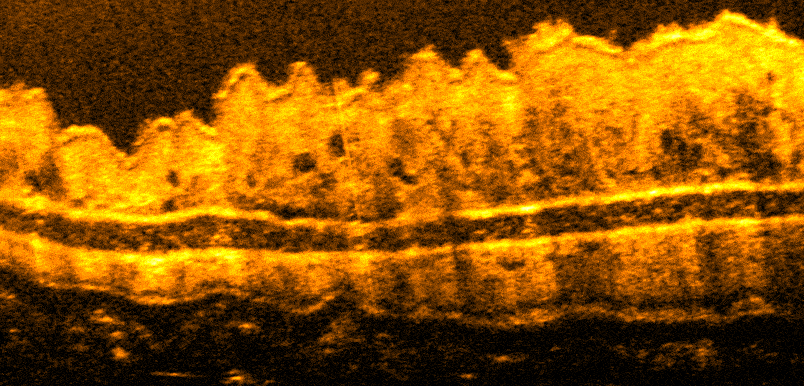 In our lab, we are developing a high-resolution OCT system for intravital applications such as tumor anatomy imaging (Fig 2).
---
People
Group members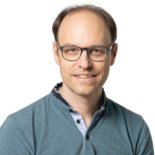 Robert Prevedel
Group leader
Working on...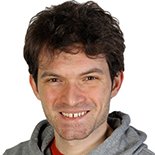 Carlo Bevilacqua
PhD student
Working on...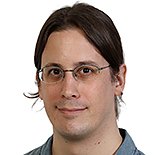 Juan Boffi
PostDoc
Working on...
Jakub Czuchnowski
PhD student
Working on...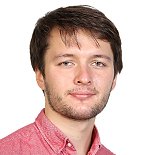 Nikita Kaydanov
PhD student
Working on...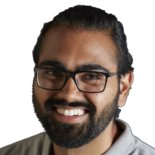 Rajwinder Singh
PhD student
Working on...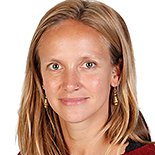 Lina Streich
PhD student
Working on...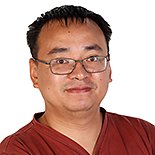 Ling Wang
Research scientist
Working on...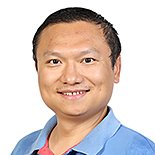 Fan Yang
PostDoc
Working on...
Associated Postdocs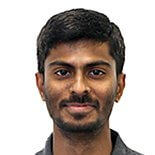 Senthilkumar Deivasigamani
Shared with Gross group
Working on...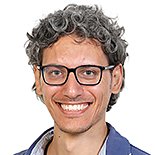 Edoardo D'Imprima
Shared with Mahamid and Schwab group
Working on...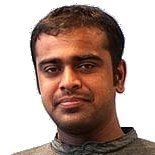 Kaushikaram Subramanian
Shared with Ikmi group
Working on...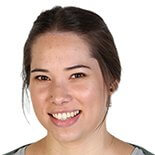 Rachel Templin
Shared with Schwab team and Arendt group
Working on...
---
Alumni
Name
Period/position in the lab
Position after EMBL
Chii Jou Chan
06/20-12/20
Postdoc
Group leader, Mechanobiology Institute, Singapore
Ronja Rehm
05/19-10/20
Master student
Predoc, University of Göttingen, Germany
Sebastian Hambura
01/20-10/20
Visiting student
Student, Mines Paritech, France
Tristan Wiessalla
10/19-08/20
Master student
Predoc (Asari lab), EMBL Rome, Italy
Mehmet S. Ozturk
01/17-12/19
Postdoc
Assistant Professor, Karadeniz Technical University, Turkey
Matteo Barbieri
07/19-12/19
Visiting student
Visiting student, Harvard University, USA
Nils Wagner
04/17-09/19
Master student
Predoc, TU Munich, Germany
Laura Steffens
05/19-08/19
Intern
Visiting student, Chicago University, USA
Momoko Kawarabata
02/19-07/19
Master student
Lab Assistant, Hampton University, USA
Claudia Robens
06/18-08/18
Intern
Student, Heidelberg University, Germany
Dongyu Li
05/18-07/18
Visiting Predoc
Postdoc, Huazhong University, China
Kris Krupp
10/17-04/18
Intern
Dmitry Richter
09/16-12/17
Master student
Predoc, Harvard University, USA
---
Open positions
Currently there are opportunities to join our research group as a postdoctoral researcher, PhD student, or Master student.
For more information please visit
this site
.
---
---
News
Congratulations to Joe for his new PI position!
20/12/2020

After 5 years at EMBL Chii Jou (Joe) Chan is leaving to take up a group leader position at the Mechanobiology Institute in Singapore. It's been great having him in the lab and collaborating on new applications of Brillouin microscopy. All the best for your new lab and scientific endeavours!
New project funded by the Chan Zuckerberg Initiative
02/12/2020

We are thrilled to receive funding from the Chan Zuckerberg Initiative to support a new project on deep-tissue imaging. We'll work together with Claire Deo (EMBL Heidelberg) and Sylvain Gigan (Sorbonne Univ.) to advance fluorescence imaging deep inside scattering samples.
Nikita Kaydanov joining our lab as PhD student
21/10/2020

Nikita started his PhD to work on photoacustic tomography. Welcome Nikita!
Fan Yang joining our lab as postdoc
07/09/2020

Fan will be working on Brillouin microscopy. Welcome Fan!
Congratulations to Tristan!
07/08/2020

Today Tristan successfully defended his MSc thesis. Good job Tristan!
Chii Jou Chan joining our lab as postdoc
01/06/2020

Joe is joining our lab to work on studying mouse ovaries using Brillouin microscopy. Welcome Joe!
Kaushik joining as EIPOD postdoc between our and Aissam Ikmi's lab
01/04/2020

He will use some of our developed imaging technologies to understand morphogenesis and behaviour in Nematostella. Welcome Kaushik!
Excellent news from Brussels again!
25/03/2020

We are receiving a Horizon 2020 FET Proactive grant to work on deep brain imaging using novel superconducting detector arrays developed by our project partners in Sweden and the Netherlands.
EMBL closure due to the Coronavirus pandemic
19/03/2020

As of today, EMBL has closed their campuses across Europe, and thus our lab is now working from home. We're going to miss our optics lab and mutual interactions, but hope everyone stays safe and healthy - see you soon!
Raj, from the Hufnagel lab, is joining our lab
01/03/2020

Raj will be working on new light-sheet imaging approaches. Welcome Raj!
Robert is back from an exciting week in the Bay Area
07/02/2020

A Neurotechnology Plenary at SPIE Photonics West, as well as invited presentations and visits to UC Davis and the CZI Biohub.
New visiting student joined our lab!
07/01/2020

Sebastian will be working on real time images process and hardware control. Welcome Sebastian!
We are now part of the Molecular Medicine Partnership Unit
19/12/2019

We are now part of the Molecular Medicine Partnership Unit (MMPU) between the University of Heidelberg and EMBL. Together with our colleagues Rohini Kuner and Jan Siemens from the University and Theodore Alexandrov from EMBL we are part of the group "Chronic Pain & Homeostasis" and will contribute with our deep in-vivo brain imaging expertise.
Great news from Brussels!
10/12/2019

The lab has been awarded with an ERC Consolidator grant to fund our work on Brillouin microscopy for the next 5 years. We are all excited and will be looking for new lab members soon.
Lina is at the International Workshop on Adaptive Optics in Industry and Medicine
21/10/2019

On the 24th of October, she will present a talk about her recent progresses in adaptive optics and multi-photon microscopy.

Official website
New Master student joined our lab!
14/10/2019

Tristan, from University of Heidelberg, will be doing his master thesis on analysing facial expressions in mice in relation to motor cortex activity. Welcome Tristan!
Mesoscopic Fluorescence Tomography paper appeared in Biomedical Optics Express
11/10/2019

The paper investigates different Source Detector configurations for mesoscopic fluorescence molecular tomography. Check it out!

Link to the paper
We are at "Seeing is believing"conference at EMBL!
09/10/2019

Carlo, Jakub and Lina are presenting a poster on the 9th and on the 11th of October.

Official website
Robert at the Interdisciplinary Symposium on 3D Microscopy
01/10/2019

Robert is presenting this week at the Interdisciplinary Symposium on 3D Microscopy in Engelberg, Switzerland, organized by the Swiss Society for Optics and Microscopy

Official website
We are in Porto for the 3rd BioBrillouin meeting
17/09/2019

On Thursday 26th September Carlo is presenting our work on "Imaging mechanical properties of sub-micron ECM in live zebrafish using Brillouin microscopy"

Here

you can find more info
We are back from lab retreat
27/08/2019

We have been, togheter with the Diz-Muñoz group, close to the Neckar river. It was a retreat with good scientific talks and discussions and exciting social activities like canoing and geo-cashing. Have a look at the picture before canoing!
Congratulations to Momoko!
10/07/2019

Today Momoko successfully defended her MSc thesis on "Development of a serial time-encoded interferometer for photoacoustic imaging". Well done Momoko!
DFG grant approved
1/07/2019

Happy to announce that we got DFG funding to join SPP 1926 on voltage imaging. Looking forward to working with Paul Heppenstall and the entire consortium
We are at ECBO in Munich
22/06/2019

On Tuesday 25 June Mehmet is presenting "Longitudinal monitoring of in-vivo mice mammary tumor progression using intravital fluorescence tomography and optical coherence tomography"

Here

you can find more info
Iso-LFM paper is published in Nature Methods
29/04/2019

Our work on dual-view light-field imaging of fast biological processes appeared online today in Nature Methods. Congrats to everyone involved!
EMBL also published an article and video describing our work. Check it out!

Here

you can find a list of all publications
New postdoc to join our lab on neuroimaging
25/03/2019

Juan Boffi joins us as an EIPOD postdoc from the Kuner lab in Heidelberg. Juan will use our fast volumetric microscopes to study sensory processing in the mouse brain. Welcome Juan!
Jakub is at EMIM in Glasgow
19/03/2019

Tomorrow at 16:00 he is presenting a poster "Longitudinal studies of mouse mammary gland tumour models using photoacoustics"

Here

you can find more info
We are online!
08/03/2019

Today our website is online!
---
Twitter
Below you can find our timeline on Twitter.
If you like it, please
---
Contact
Prevedel lab
European Molecular Biology Lab
Cell Biology and Biophysics Unit
Developmental Biology Unit
Epigenetics and Neurobiology Unit
Meyerhofstraße 1
69117 Heidelberg
Germany
Room 407
+49 6221 387 8722
prevedel(at)embl.de